Catalysis, a key technology for Europe
The production of 80% of industrially relevant chemicals involves catalysis, which accounts for about 20-30% of World Gross Domestic Product. Therefore, catalysis lies at the heart of our chemical industry. Europe is a leading player in both academic catalysis research as well as its industrial implementation, but this leadership is increasingly challenged by emerging economies (China) and by mature but still innovating economies (US, Japan). Recognized challenges in Europe are the fragmentation of the research efforts, the lack of a common vision and weak coordination at the EU level. Thus, European investment in coordinated and innovating research in catalysis is warranted.
The CCIMC project is an Initial Training Network (European Joint Doctorate), running for 4 years, from March 2020 until February 2024. This project addresses the current lack of coordinated doctoral training at the European level on molecular catalysis. It aims to push the frontiers of knowledge in ligand design, coordination chemistry, precatalyst development, catalyst recovery and catalytic process implementation, while also offering full scale training in professional and personal transferable skills. To achieve these objectives, a consortium of 9 academic beneficiaries from 7 European countries will recruit 15 doctoral students to develop coordinated projects. The innovative training approach also involves 8 partners from the industrial sector that are fully integrated via secondment and participation in the theoretical training and network meetings.
Starting from October 2020, 15 Early Stage Researchers (ESR) will begin their doctoral studies in the frame of CCIMC project. 15 students from all over the world will work in parallel during three...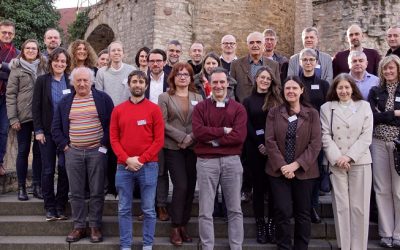 CCIMC (Coordination Chemistry Inspires Molecular Catalysis) project coordinated by the CNRS and funded by the European Commission has just started with its Kick-Off Meeting in March 2020.